Top 10 favourites from Yayoi Kusama: Life is the Heart of a Rainbow
"My artwork is an expression of my life, particularly of my mental disease." – Yayoi Kusama in an interview with BOMB Magazine.
Renowned for her psychedelic obsessions, the Japanese avant-garde artist, Yayoi Kusama is living proof of the power and relevance of Arts; so important that it becomes one's lifeline to sanity. Upholding profound respect for her, we were thrilled to be able to view her beautiful creations right here in Singapore! Even though we barely made on the last day of the exhibition, we were so glad that we had not missed this opportunity, better late than never right? :)
Let's now walk through the Yayoi Kusama: Life is the Heart of a Rainbow exhibition and have a peek at our top ten favourite installations.
Yayoi Kusama: Life is the Heart of a Rainbow exhibition, courtesy of National Gallery Singapore.
1. Statue of Venus Obliterated by Infinity Nets No. 2
"A polka-dot has the form of the sun, which is a symbol of the energy of the whole world and our living life, and also the form of the moon, which is calm. Round, soft, colourful, senseless and unknowing. Polka-dots become movement ... Polka dots are a way to infinity." – Yayoi Kusama
Venus, the Greek goddess of love, is paired with canvas and painted over with a black and yellow infinity net in this masterpiece. Infinity nets, iconic of her works, are massive repetitions of polka dots taken from her hallucinatory visions. The optical illusion of the statue disappearing into the background is such a strong visual effect that simply draws the crowd to it.
2. Pumpkin (TWAQN)
"Their generous unpretentiousness and solid spiritual balance appeal to me."
Apparently, pumpkins hold a personal and emotional connection for the artist and have become a recurring motif in her works. They represent comfort and security, and their bright colours inspired one of her signature colour scheme – black and yellow. We love the vibrancy and sharp contrast, the pronounced shape of the pumpkins and the contemporary touch to this piece, that is slightly different from her earlier work.
3. Pumpkin Infinity Room
Immerse in a world of simply yellow and black dots. This new room is made up of pumpkin sculptures covered with mosaic tiles, a relatively new technique for the artist.
4. Mirrors and Infinity
Be confounded in the infinite space of this labyrinthine Invisible Life, as the artist attracts and yet distracts you with optically multiplied images of self and one's reflection. Have fun seeing multiple you!
5. Infinity Mirrored Room – Gleaming Lights of the Souls
Getting into this room was kind of exciting and yet nervous, and it is now known to us as the '12 seconds room'. It's nickname came about from the 12-second time limit imposed for viewing inside the room due to massive crowd that day. 12 seconds - is seriously way too short, especially when you are trying to get a good shot/video and view the exhibit.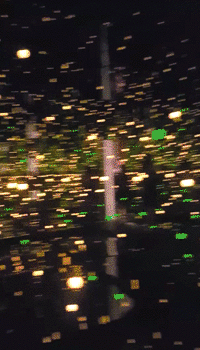 Anyways, it was certainly worth it, look how beautiful it is inside! The changing but repeated patterns of the flashing lights supposedly parallel the universe's endless cycles of life and death.
6. I WANT TO LOVE ON THE FESTIVAL NIGHT
The latest installation from her mirrored peep box series Infinity Mirrored Room – Love Forever. As avid lovers of colourful things, this was absolutely stunning; feels like peeping through a kaleidoscope.
7. With All My Love for the Tulips, I Pray Forever
"Kusama's gigantic tulips with their opening petals like gaping mouths are at once magical and menacing." –Exhibit label
So, the idea of this quirky, rainbow-like room is to play with our perception of space and scale. As the white room and white tulip sculptures are covered in colourful dots, all elements seemed to merge into a unified whole. This has to be the top spot for taking selfies and we-fies, and who can help it when immersed in such pretty surroundings? It just makes you feel like a happy child in your dream room. 😊
8. My Eternal Soul
This is her largest series of paintings to date and is still on going. They feature a riot of brilliant colours such as electric hues and metallic paint, and often combine past enduring motifs with new elements. Interestingly, as these works are painted spontaneously, the final orientation is only decided by Kusama after its completion.
9. Narcissus Garden
Get surrounded by numerous shiny, stainless steel balls! From one of her boldest act at the 33rd Venice Bienniale, this installation featured 1,500 mass produced reflective balls that were sold for two dollars each. Her purpose of seeking to connect art with everyday life and making art accessible to ordinary people and not just the wealthy elite, certainly inspires and resonates with us.
10. The Obliteration Room
Final pit-stop! (Which we almost missed if we had not walked along the basement floors.) Wow, let's all be obliterated by rainbow dots. A brilliant idea of an interactive installation, that not only awed the kids but also everyone else. And certainly, a fun way to end this delightful day. :)
"I, Kusama, am the modern Alice in Wonderland"